Alopecia Wigs · Cancer Wigs · Custom Wigs · Eye lashes · Frontals · Fullace Wigs · Hair bundles · Hair extensions · Hair lenghts · Lace Frontal Wigs · Lace wigs · Luxury hair · Machine made wigs · Wig cleaning service · Wig making services · Jul 14, 2020
WHAT IS YOUR PREFERENCE RAW OR VIRGIN HAIR?
RAW HUMAN HAIR
So, what is raw hair and where does it come from? Raw unprocessed human hair is sourced mainly from overseas. India, China, Vietnam, Cambodia, and South America are hotspots for raw hair. 
Hair that comes from China is usually processed in some form. They apply chemicals, steam it, bleach it blonde, remove the cuticle and coat the cap with silicone to match various textures.
On the other hand, raw hair is exactly as the name applies; Raw, unprocessed, 100% human hair. When you think about unprocessed this means it has not undergone ANY chemical, heat or steam processing. Raw hair is the most purest and natural form of hair available on the market. Raw hair is great; the quality is top notch and if taken care of, it can last from two to four years.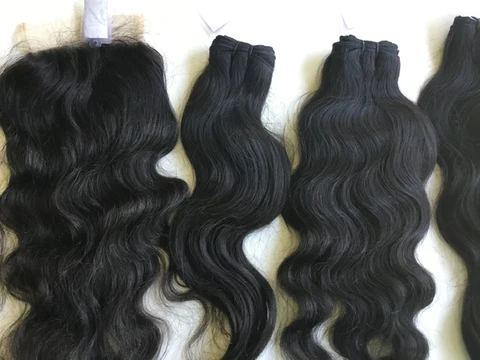 Now lets get into the details of raw hair. Single donor hair is a bundle of hair that is cut only from one donor, that is what's called single drawn hair. Double donor hair is cut twice from one donor (This type of hair is more expensive than a single donor). When the hair is collected from donors it is examined for evidence of lice then its washed, shampooed, conditioned, sorted then made into the wigs, frontals, closures, and bundles we all love! 
The beauty of Raw hair is that no two bundles are the same in terms of color and texture. That's because the hair is not steamed from uniformed patterns. 
The other thing to keep in mind is that raw human hair will most likely be aligned, meaning the hair is organized in the same direction to keep hair from tangling. To test this out you can simply take a few strands of hair starting from the top and run your fingers down the length of hair. It should be very smooth, however if you do the same thing in the opposite direction you should feel some resistance or friction that is an indication of real quality hair that will last from two to four years (depending on how well the hair is cared for).
Raw hair does require regular maintenance to maintain its sheen. As weird as it seems, raw hair needs a lot of moisturizing and conditioning. We highly recommend using quality products, salon grade hair care products  may cost more, but in the long run it will preserve the life span of your wigs or hair extensions. If that's not an option for you then please use products that has no sulfates, paraneans, or alcohol as these ingredients tend to strip raw hair leaving it dull and brittle. There are specific products you should and should not use on raw hair.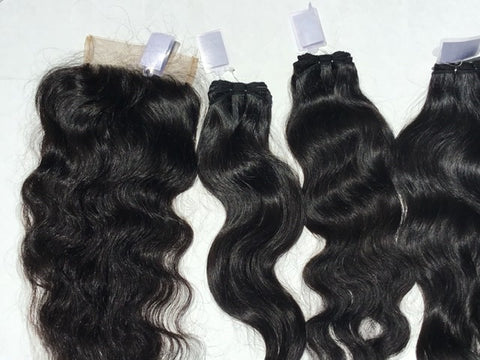 MAIN  FEATURES  OF  RAW  HUMAN  HAIR
Raw Indian: Raw Indian hair is extremely popular and favored by clientele and usually comes in lighter brown colors- which may be a pro if you need to blend it with lighter colored natural leave outs. See our collection of our raw Indian hair here.
Raw Vietnamese: Raw Vietnamese is usually comes in a bomb straight texture. Super smooth and perfect for any sleek looks. The texture is also great for blending with natural hair. See more here.
Raw Cambodian: Raw Cambodian hair is very full body, thick, wavy and mostly used for curlier styles.
South American: Raw South American hair is very full body hair that comes in straight, wavy, and in rare cases curly. What makes South American hair great is that the colors, textures and lengths are well suited to most ethnicities.
VIRGIN  HUMAN  HAIR
Virgin hair is a term for hair that has never been chemically processed.  Chemically processed hair is hair that has been color treated, permed, relaxed, bleached or dyed. 
Unlike raw hair, which only comes in three textures (and usually one to three origins), Virgin hair comes in a variety of origins and textures. Raw hair normally comes in 3 froms, straight, natural wave, and curly. You have more of a variety with Virgin hair, the textures and patterns range from Brazilian to  Mongolian, and comes in a variety of textures like kinky curly, body wave, deep curly, etc. 
Steam processing or steaming allows for the creating of those hot exotic and unique styles including: body wave, deep wave, mink or silky straight, Italian curl or Spanish wave, kinky curl, tight curl, curly wave, loose wave, kinky straight, 4C Afro kinky, natural wave, Blonde 613.
So, here you have it a quick intro to raw and virgin hair. We recommend that you sign up for our newsletter because we plan on dropping different styles of wigs and hairextensions using these raw and virgin hair goods.
Newsletter here 
All the best,
Ada Leroux Hair
Hey do you wear our products? We would love to see your selfies!